One of the areas that have not made progress in technology for more than 100 years is the projectile of the bullets. I think it was because no one thought that groundbreaking technology would be developed in this field. I am developing new concept projectiles that no one has tried. I understand the US military's choice to increase the caliber of the rifle due to lack of accuracy and performance, but with our technology, you don't need to waste your budget. Still, if you want to increase the caliber of your rifle, if you use a projectile that incorporates our technology in a new caliber rifle, you will be able to improve enormously.
The core element of this technology is vortex removal. The distance, destructive power, accuracy, etc. are significantly reduced due to the vortex generated at the bottom of all projectiles. That is, about 40% of the distance loss is due to this vortex.
What if the vortices generated during flight can be eliminated?  We found that by removing these vortices, we not only increase the range but also come with various side advantages. Such as decreasing muzzle vibration, accuracy improves 32.6% (less then 0.8MOA), tremendous penetration and interpersonal retention, etc.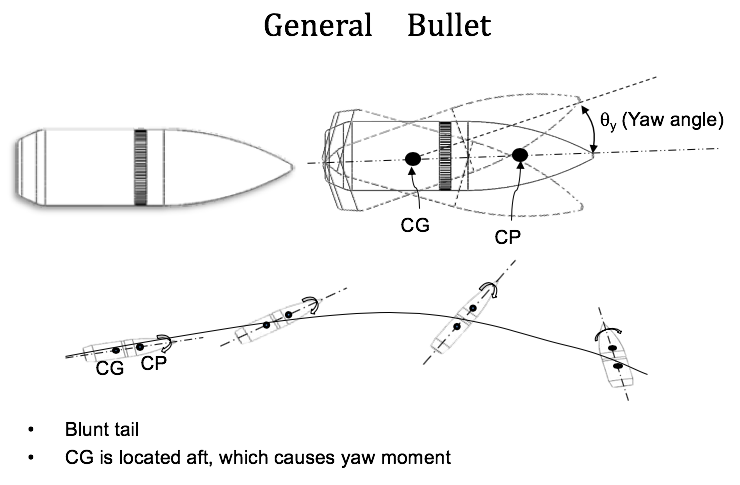 As important as the removal of vortexes, the positional movement of CG. This is because the projectile is determined to maintain its maximum destructive power to the end.  In addition, one of the favorite points of special force is that recoil power is reduced. This is because the continuous shooting can be performed more accurately.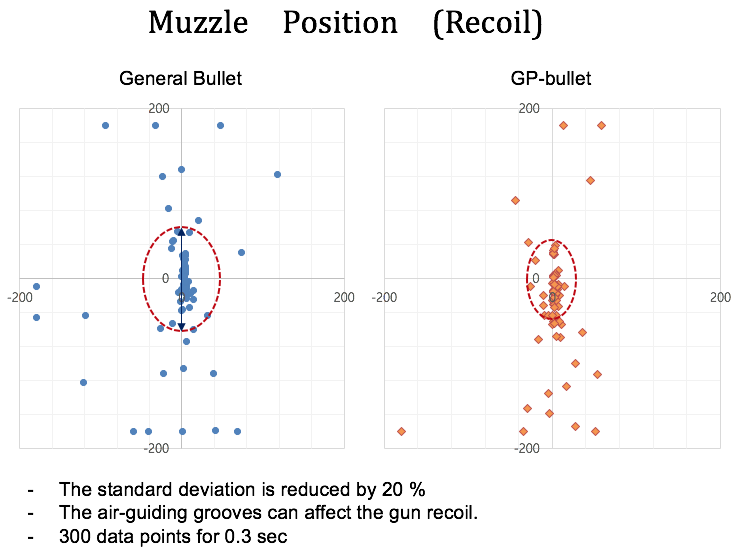 For more technical data, please see our paper published at the AIAA(American Institute of Aeronautics and Astronautics). You can download the presentation text from the URL below.
J. Kim

, H. Kim, "Experimental Investigation on Penetration Performance Affected 
by the Air-Guiding Grooves on Small Spinning Projectile", 2019 AIAA SciTech Forum,2019. 
Full version > https://doi.org/10.2514/6.2019-0600

 





J. Kim

, H. Kim, S. Jee, 

"Experimental Investigation on Muzzle Blast Affected 
by the Air-Guiding Grooves on Bullets", 2018 AIAA SciTech Forum,2018.  
Full version > https://doi.org/10.2514/6.2018-1525
In conclusion, this technique can be applied to all types of projectiles. The same principle applies to 155mm shells. What would happen if the range of the shell increased by 30% from the enemy? Imagine how strong your army will be. Please check out the below video for the detailed introduction.
In Korea, firearm possession is not possible, so we cannot test freely. The bulletproof testing and certification authority is the only one that can be tested, but 12.7mm is the maximum caliber, and 5.56mm and 7.62mm is the only way to be tested.  I'm going to show you a test of how destructive our grooves are.
I did a comparison test of 5.56mm projectile. We compared it to the M855 (known as K100 in Korea) used by the Korean military today. The M855 is the old model used by the U.S. military, and the U.S. military is currently using the M855A1 but we can't use it, so it's too bad we can't compare it. Anyway, this is the result of a penetration test of a 6.5mm thick armor steel plate (Mars240, ArcelorMittal) with the same condition.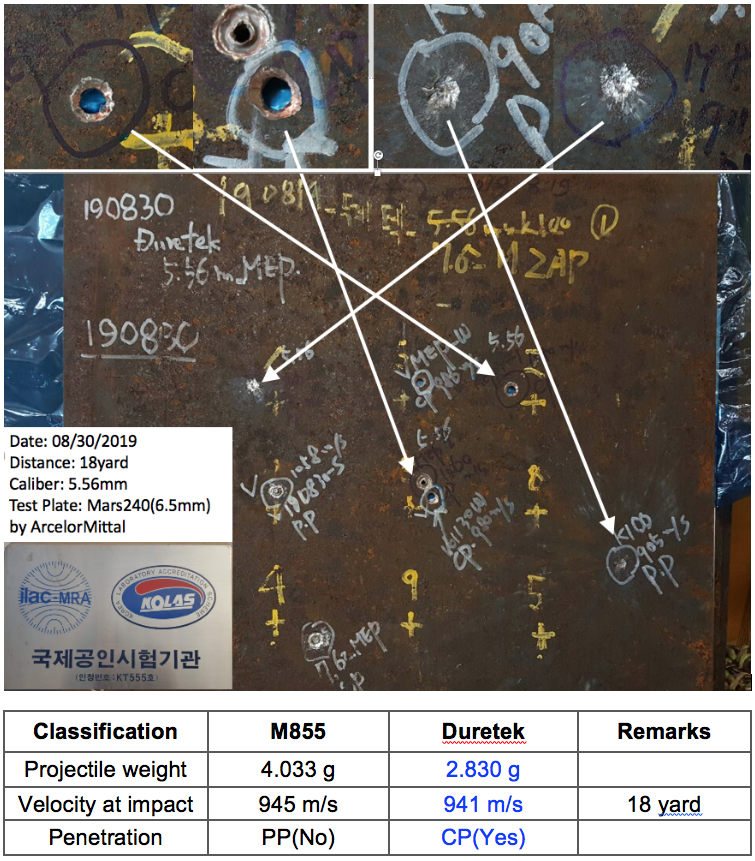 What surprised me when I tested it was that the M855 was only 18 yards away, but it only made scratches on armor steel plates. I understand why the U.S. military wants to go to 6.8mm cal. And then what's more surprising is that our Groove bullet is completely perfected. Because the projectile weighed only 2.83 grams. What does this mean? The result is that today's all projectile are incredibly ineffective and that our projectile can improve performance as much.
I don't have to say the key accuracy in a long-range shooting as well as the destructive power. Our groove bullet is all less than 0.8MOA and will be a sniper bullet if manufactured more accurately in mass production. The machine I'm making for the test is semi-automatic, so it's a little rough. Most importantly, we have the design capability to implement the performance and functions you want. And the most effective application of this technology is more than 30mm caliber. If you have this kind of environment and facilities, don't you want to check it with us?